What We Offer Schools
Gallery Talks
These informal talks last about 20-30 minutes and take place in the main exhibition space/shop. We'll give you an introduction to our current exhibition, a brief history of Mission Gallery and wrap things up with a Q&A session.
Booking Required.
Max 30 Students
Available in Welsh
Free
---
Handling Collection
Our handling collection allows you students to get hands on with a wide range of visual and applied arts; from ceramics, to textiles, to jewellery. We understand that handling real objects is a great way to learn. Your students will be guide through each piece with information about the artist and the process.
Booking Required.
Max 20 Students
Available in Welsh
Free
---
Art Workshop for Schools
Working with you, we'll put together and deliver an art workshop tailored to your students needs. We'll provide you with all the materials for the workshop. Each workshop lasts for 2 hours. You can chose from a morning (10am-12pm) or afternoon (1pm-3pm) session. Max 15 students per session.
Booking Required
Max 15 Students
Morning or Afternoon
---
1 Hour Workshop
These shorter sessions are ideal for groups looking for something new but on a tight deadline. Led by the learning team, we'll work with you to put together an hour of fun. 
Booking Required
Max 15 Students
Available in Welsh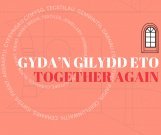 Gyda'n gilydd eto / Together again
Christmas Exhibition
11 Nov - 13 Jan 2024
More Info