Cookies Notice
Our website uses cookies to help us improve how our website works. This policy will go through what cookies are, what cookies we use on our website and how you can learn more.
---
What are cookies?
Cookies are small files that are stored on your device (phone, tablet, computer etc) when you visit a website.
Most of the time, cookies are needed to ensure a website or service runs correctly. Depending on the type of cookie, some cookies can remember you and how you've interacted with the website.
---
The cookies we use.
Google Analytics
We use Google Analytics to better understand how visitors interact and use our website. This data is used to see if there are any issues with our site and how we can improve it. You can learn more about Google Analytics and our website on our Website Privacy Notice. We have set up our Google Analytics to anonymise your IP address. Google has provided an opt out tool.
Consent Banner
Our consent banner uses a simple cookie to remember if you've dismissed the cookie banner - so you don't see it every time you visit our site. We hate annoying pop-ups and banner.
---
More Information.
Most web browsers allow you some control over cookies and the ability to remove them through the browser settings.
For the most up-to-date information regarding browsers and cookies, please visit the browser's website.
You can learn more about cookies at allaboutcookies.org
If you have any questions regarding cookies and our websites use of them, contact of Data Protection Officer: data@missiongallery.co.uk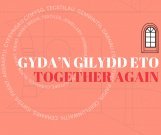 Gyda'n gilydd eto / Together again
Christmas Exhibition
11 Nov - 13 Jan 2024
More Info