Visitor Policy September 2021 
We're delighted that Mission Gallery is open to visitors. 
Our priority remains keeping you and our staff safe. We've updated our policies and risk assessments in line with UK and Welsh Government guidelines. 


Opening Times: 
Our opening times are Wednesday - Saturday 11am - 4pm. 
Any updates to this will be posted on our website and social media accounts. 
Insta: @missiongalleryswansea 
Facebook: @mission.gallery 
Twitter: @MissionGallery 


How to visit safely: 
● Face coverings must be worn at all times during your visit please. This is currently mandatory, unless you have an exemption. For more information, please visit the Welsh Government website here 
● Upon entering please use the hand sanitiser provided and complete the cards provided with your details for Contact Tracing. We will keep and subsequently shred/delete these details in line with the Information Commissioner's Office guidelines 
● Kindly give other visitors and staff some space. To maintain a safe environment, we may limit the number of visitors allowed in the building at busy times 
● We have enhanced our cleaning routines. Please help us by only handling items that you are interested in purchasing 
● For the safety of our staff and visitors, toilets will remain closed to the public. 
Purchasing items from the shop or gallery 
Mission Gallery can now only accept card payments, contactless where possible. The card machine will be cleaned after each use. We cannot currently accept cash payments. We have installed plastic guard shields at the reception/sales desk. 


Feeling unwell 
If you or someone with whom you have recently been in contact is showing symptoms of COVID-19, please postpone your visit to the gallery. 
Many thanks for your understanding and support.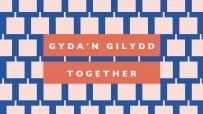 Gyda'n Gilydd / Together
27 Nov - 08 Jan 2022
More Info