Website Privacy Notice
This website privacy notice will go through the data our website collects and how it is used. If you have any questions please contact our Data Protection Officer: data@missiongallery.co.uk
Our Mailing List
If you wish to join our emailing list (powered by MailChimp), we will ask you for the following data:
Your Name
Email Address
Consent and Unsubscribing: When joining our emailing list, you give consent when signing up.
You can unsubscribe at any time and all our email campaigns have an unsubscribe link in the footer of the email (at the bottom of the email). We will never share or sell your email address. 
---
Our Shop
If you choose to purchase an item from our online shop (powered by iZettle), the following data is required:
Your Name
Email Address
Postal Address
Billing Address
Payment Info (Card Info)
This data is required for iZettle to process payment. All this data is securely processed by iZettle on their servers and not on Mission Gallery's servers. iZettle is fully PCI DDS complient. iZettle does not share the full details of your payment with us.
The only data Mission Gallery staff have access to is:
Your Name
Email Address
Postal Address
This is required for us to process and dispatch your order. 
 
---
Events Booking
If you choose to book an event online, the booking system we use (powered by Eventbrite) requires the following data;
Your Name
Email Address
Postal Address
Billing Address
Payment Info
This data is required for us to process payment and confirm your booking.
All the data is securely processed by Eventbrite and on their servers.
We only use this data to fulfil your order and to update you on your booking if required.
No payment information is share with us.   
---
Services
Google Analytics
We us Google Analytics to better understand how visitors are using and navigating our site.
We collect the following data;
Your location (Via IP)
Website Usage (Pages visited and links clicked)
We may share this data with;
Mission Gallery Staff
Mission Gallery Board of Directors
Arts Council of Wales 
This information is anonymous. You can read more about how Google uses your data here: https://www.google.com/intl/en/policies/privacy 

You can also opt out of Google Analytics here: 
https://tools.google.com/dlpage/gaoptout

Cookies
We collect Device Information using 'Cookies'. These are data files that are placed on your device or computer and often include an anonymous unique identifier. For more information about cookies and how to disable cookies visit: http://www.allaboutcookies.org
Other websites
Our website contain links to other websites, which are outside our control and are not covered by this privacy notice. Please check with their privacy notice.
Google Forms
We use google forms on certain parts of our website to capature a range of information.
Each form will outline the data being collected, it's purpose and duration it is kept for.
All data is securely process and stored using gsuite.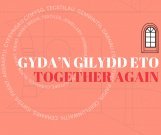 Gyda'n gilydd eto / Together again
Christmas Exhibition
11 Nov - 13 Jan 2024
More Info