Returns Policy
We want you to be completely happy with your purchase, however if you are not, please return it to us in its original condition within 28 days of receipt and we will be happy to exchange it or give you a refund, this applies to both online and in-store purchases.
---
Returning an item purchased in the shop.
To accept a refund, you must provide evidence that you purchased the item from us, this could be the original receipt, bank statement etc. Provided the item is in an acceptable condition, we will issue a refund using the original tender.
---
Returning an online order
Before returning an online order, you'll need to arrange it with Rhian: rhian@missiongallery.co.uk
Wherever possible, please return the items in their original (or similarly robust) packaging. Please note that when returning an item, the parcel is your responsibility until it reaches us. We recommend that you ask your Post Office for a proof of posting (available free of charge). This guarantee does not affect your statutory rights. Returns should be sent to:
Mission Gallery (Returns), Gloucester Place, Swansea, SA1 1TY
---
Postage Costs
For online orders, we will also refund the outbound delivery cost. Return postage charges are non-refundable unless your order was faulty or incorrect.
---
Receiving your refund
When an item qualifies for a refund, we will issue the refund using the original tender; if you paid in cash, you'll get a cash refund. If you paid using a card, we will issue a refund to that exact same card.
---
Exchanging an item
If you change your mind about an item, we can offer an exchange. You'll need to provide your receipt.
---
Exceptions
Certain items cannot be returned for a refund unless they are faulty or arrive damaged. There items are:
Personalised or custom order goods.
Perishable or edible items.
Jewellery such as earring.
---
Faulty or Damaged Items
We take great care handling and packing our products. In unfortunate event an item is delivered faulty or damaged, please contact rhian@missiongallery.co.uk so we can arrange a replacement or a refund.
Items are classified as faulty if they are received damaged, or when a manufacturing fault occurs within 6 months of the purchase date. Items that are damaged as a result of wear and tear are not considered to be faulty.
If you have any further questions, please contact rhian@missiongallery.co.uk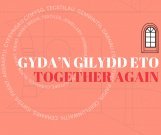 Gyda'n gilydd eto / Together again
Christmas Exhibition
11 Nov - 13 Jan 2024
More Info