About Mission Gallery
Our mission
To collaboratively develop and deliver an innovative programme that is inclusive and distinctively of Wales; to be practitioner focused, artistically ambitious and to enrich the lives of all involved.
Our values and focus:

●  to be sustainable and aspirational; for ourselves, for creative practitioners, for our local communities
●  to develop opportunities for creative professionals and to mutually support independent practice
●  to develop opportunities for meaningful collaboration and learning; between practitioners, communities, organisations and education providers
●  to proactively explore local, national and international partnerships that will grow cultural understanding and mutuality

●  to nurture and support contemporary arts practice that is driven by integrity of intent, is skills based, has an appreciation of materials and consideration for audience
●  to advocate Mission Gallery, both as a physical venue and as an organisation, as a safe space to pursue and enjoy creative practice; for all. 
---
Mission Gallery is one of the most inspiring spaces in Wales for the contemporary arts. A unique, architecturally beautiful space, the building is a rich resource for the local and wider community providing artists at all levels and experience, opportunities to display and make work while developing our audiences enjoyment, understanding and knowledge of art.
Founded by artists in 1977 as 'Swansea Arts Workshop Gallery', Mission Gallery has since developed a national and international reputation for presenting dynamic and distinctive programming. Boasting a proud forty year history of delivery and a strong reputation for supporting and nurturing artists, Mission Gallery has taken artistic risks; showing ambitious, diverse work by established and emerging artists across all disciplines, from Wales and beyond. Mission Gallery has a thriving Learning and Participation Programme aimed at all ages and abilities, building strong and meaningful cultural partnerships within artistic and education institutions. Mission Gallery is proud of the important collaborations, projects and exchanges developed with cultural organisations in New York and Venice, building our international work through programming, partnerships and residencies​.
Housed in a Grade II listed building in Swansea's Maritime Quarter, Mission Gallery began its existence as a voluntary artist run body, evolving into a professional organisation funded by Arts Council of Wales in 2003. Governed by a voluntary board of directors, the management, programming and running is maintained by a small and dedicated team of staff and volunteers. Mission Gallery has a long track record of successfully forging meaningful and sustainable partnerships across the city, in particular with Swansea College of Art who are key partners.

Our History
1868
St Nicholas Church, a non-denominational Seaman's Mission built by Benjamin Bucknall.
1977
Swansea Arts Workshop opened to the public as anArtGallery, including exhibition and workshop space. It was run by volunteers as part of the Association of Artists & Designers (AADW).
1992
Swansea Arts Workshop became an independent gallery.
1998
Swansea Arts Workshop adopted the name Mission Gallery. Promoted as a Crafts Council Selected Gallery.
2003
Becomes a revenue client of the Arts Council of Wales (ACW) receiving core funding for its exhibition programme, plus the first two salaried posts in its history
2008
Constituted as a not-for-profit organisation.
2011

Mission Gallery receives an uplift in its core funding from the ACW.
2012
Acquisition of 1st floor of St. Nicholas' Church. A 30 year lease is signed with City & County of Swansea for the whole building.
2012
ACW funding for the remedial repair and development of the 1st floor into a dedicated education space.
2013
Mission Gallery undergoes a Feasibility Study funded by ACW to explore the possibility of a Major Capital Redevelopment.
2015
Mission Gallery receives significant ACW funding for two major projects; our flagship, cross county education programme, Criw Celf West and a National Touring Exhibition The Language of Clay. Both projects now guaranteed until 2019.
2016
Important collaborations, projects and exchanges developed with cultural organisations in New York and Venice, building Mission Gallery's international work work through programming, partnerships and residencies​.
2017
Mission is 40! Mission Gallery celebrates its 40th birthday with an exhibition and fundraiser with our Staff, Board, Volunteers, Friends, Partners and Artists.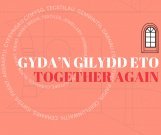 Gyda'n gilydd eto / Together again
Christmas Exhibition
11 Nov - 13 Jan 2024
More Info