Supporting Real People & Real Talent
A curated experience with a great selection of unique cards, prints and gifts - there's something for every occasion.
All the work is made by talented makers and designers. When you buy from us, you're also helping to support real people; we want to say a massive thank you.
Click here to visit our online shop 
Images (left to right): Katy Mai, Toni De Jesus, Katie Victoria, Driftwood Designs, The Crafty Guillemot, Anne Gibbs.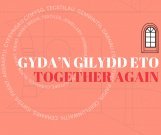 Gyda'n gilydd eto / Together again
Christmas Exhibition
11 Nov - 13 Jan 2024
More Info