Open Call | Online Workshops
Mission Gallery invites expressions of interest from freelance artists and creative practitioners in the Swansea Bay Region ie. Swansea, Neath Port Talbot, Carmarthenshire and Pembrokeshire for the digital delivery of live creative workshops on the theme of Spring and New beginnings.
We would like to commission 2 live, digital sessions for adults and 2 live, digital sessions for young people.
We work with a wonderful range of artists to deliver participatory activity and we are keen to expand this community further. We would warmly welcome interest from artists with lived experiences of racism, deaf and disabled artists and Welsh speaking practitioners. We'd be pleased to hear from artists working in any field of practice. We will make resources available to support accessibility.
From the expressions of interest we receive, we will commission 4 digital workshops immediately and retain other expressions in order to consider future commissions.
Fee for workshop commission: £200
Expressions of interest may be written or as video or audio files (.mpeg or .mp4 only). Your expression of interest should be a maximum of 400 words or maximum 5 minutes if submitted via visual or audio file. Please include:
       your name and contact details
       either your biography or cv or link to practice website
       a brief outline of the workshop activity you would deliver and how it relates to the theme
       the group it is intended for (if applicable) and any specific materials required
       permission for us to retain your contact details for future use.
Please send information to:
In order to be considered for commission, please submit an expression of interest to  
Subject Line: Online Workshops
Deadline extended : end of day Saturday 10th April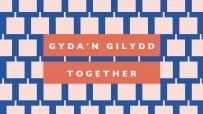 Gyda'n Gilydd / Together
27 Nov - 08 Jan 2022
More Info