Become a Volunteer
We really value our volunteers; they help support the work of the gallery in so many ways. We purposely have a small team of volunteers; so we work with them as individuals and support the ambitions. 
What will you do?
Being an art gallery volunteer is a varied role, you'll help to support lots of the different things we do around the gallery. Some of the main duties include:
• Working on Front of House and greeting our visitors (This is very important to us).
• Answering visitor questions about exhibitions and artists.
• Processing sales in our shop.
• General tidying around the shop/exhibition space.
• Helping with the install of exhibitions.
• Provide general help with our team members. 
What we'll do. 
We really value our volunteers and all the effort they put in. As a way of saying thank you, we'll promise to:
• Provide you with meaningful gallery experience.
• Offer training and development opportunities.
• Provide you with a safe, inclusive environment. 
Want to Apply?
When volunteering opportunities come up at Mission Gallery, we promote them on our website, social media and through our community partners; such as other galleries, schools, colleges and universities. We have limited number of spaces - so it's usually and one out, one in system. But we always welcome applications. The application process is all online; the form is simple and easy to fill in. We keep your application on file for 2 years, when opportunities  come up, we'll contact you - so don't worry if you haven't heard from us yet.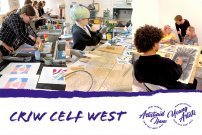 Criw Celf West
An overview of the year
27 Aug - 10 Sep 2022
More Info