Mission Gallery Board of Directors: Secretary
Should you require this recruitment information in a different format then please contact Mission Gallery on either 01792 652016 or by email: director@missiongallery.co.uk
Mission Gallery is looking for an experienced individual to join our Board of Directors as Secretary.
Mission Gallery delivers broad ranging exhibition and education programmes, presenting contemporary visual and applied arts and crafts at its historical venue in Swansea's maritime quarter. We work closely with emerging and established artists to exhibit and to teach a dynamic breadth of practice. It is an exciting time in the development of Mission Gallery as an organisation, as we work to grow the partnerships and communities with whom we collaborate. We are seeking a new Secretary to join our dedicated and experienced Board of Directors, someone who can bring knowledge and enthusiasm to help support our team. 
The Secretary will work closely with the Chair, Vice Chair and Treasurer of the Board of Directors as well as with the Creative Director of Mission Gallery. Broadly, the role of the Secretary is to be responsible for:
ensuring the efficient running of the Board, including the issue of notices of meetings, preparation of agenda, circulation of papers and producing minutes to record Board business

monitoring decisions and ensuring compliance with the Memorandum and Articles and other relevant policies

advising Directors on their duties.
This is an opportunity to work with a dedicated team, keen to grow provision for local communities and to create possibilities for the professional arts sector in Wales, and beyond. It is a chance to be part of a committed Board of Directors who, with the staff team, are passionate advocates for Mission Gallery and for its potential.
Terms
The role is voluntary. Reasonable expenses relating to Board activity will be covered. The time commitment is variable, but is expected to be equivalent to a maximum of two days per month; less is likely.
How to apply
Please send us a cv or biography, together with a written OR video OR audio statement, outlining why you would like the position and what you could bring to Mission Gallery. We also kindly request that you send us a completed Equalities monitoring form:
You can find the form if you click here. 
You can either post these for attention of Ceri Jones to:
Mission Gallery
Gloucester Place
Maritime Quarter
Swansea
SA1 1TY
Or email:
Please state Board Secretary in the subject line.
Should you like to know more about the role or the work of Mission Gallery then please don't hesitate to call or email the gallery and ask for Ceri, who'd be pleased to help.
The closing date for applications is midday on 30 November 2021.
Mission Gallery is an equal opportunity employer and welcomes applications from all sections of the community. We encourage applications from groups currently under represented on our Board​.​ Mission Gallery is a not-for-profit limited company that is supported by the Arts Council of Wales.
Mission Gallery Swansea |  01792 652016  | www.missiongallery.co.uk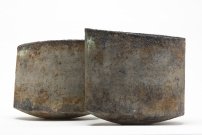 Flux and Poise
Paul Wearing
22 Jan - 12 Mar 2022
More Info