Marchnad Gelf / Art Market
An opportunity to show and sell your work. We'd like to meet you and learn about what you make.
As part of Mission Gallery's 'Gyda'n gilydd / Together' programme this Christmas (27 November 2021 - 08 January 2022), we're opening up our exhibition space for people to enjoy and participate in a range of creative activities. 
Alongside a programme of performance, workshops and storytelling, the gallery will be a pop-up market that will change each week. Featuring work by new and established artists it is a chance to enjoy and invest in our creative community.
Your work can be featured for a few days or for the duration of the programme, it's up to you. We welcome applications from every discipline; jewellery to print, sculpture to textiles, painting to glass.
Work will be sold on a commission basis. We'll take care of the set-up and selling and once done we'll pack everything away for you.
To apply, please send us a couple of sentences about yourself and your work, a set of images and a current price list. 
Deadline for applications: Friday 5th November 
---
To apply, please send the following:
A short statement about yourself and your work, in any language (120 words maximum)
A set of images (6 x maximum)
A product list including descriptions and the artist's price (this is the amount that you will receive, we will add a small commission to help cover our costs)
A link to your website/instagram/facebook page (only if you have one)
Information to be sent to apply@missiongallery.co.uk with the subject heading: Together
---
Additional Notes:
The pop-up showcase will be curated by Mission Gallery.
All sales are subject to a much-reduced commission of 20% plus VAT.
All sales will be taken via Mission Gallery's front desk.
Artists who sell work will be provided with a Purchase Order Number ahead of invoicing.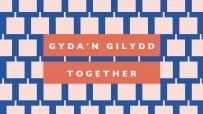 Gyda'n Gilydd / Together
27 Nov - 08 Jan 2022
More Info