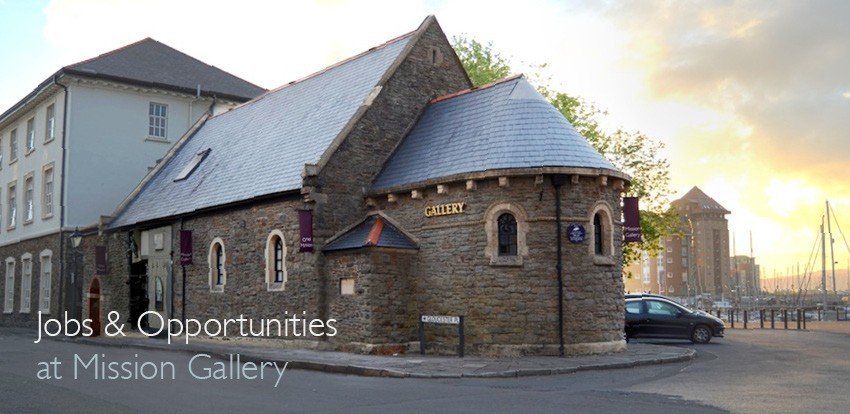 Volunteer at Mission Gallery
---
Do you want to volunteer at Mission Gallery? 
Please download and complete the following application form
Then return to: Emma Cartwright | Learning & Participation Officer
Finance & Administrative Assistant
---
Current Vacancy: March 2014
Finance & Administrative Assistant (1yr rolling contract)
Mission Gallery is looking for an experienced, enthusiastic and flexible individual to join the team. A fantastic opportunity to work at Mission Gallery.
Are you Creative, Collaborative and  Passionate about the Arts? Would you enjoy a challenging, varied and informal working environment?
Can you work in small team, manage a demanding work load and work using your own initiative?
You must be;
responsible and efficient;
honest and reliable;
a good communicator.
You must have the ability to;
work well with people with different backgrounds and skills;
manage several projects and budgets effectively.
Knowledge of Contemporary Art and Craft would be an advantage, as would previous experience in Arts Administration. An understanding of Mission Gallery's Artistic ethos and Philosophy is essential
To apply: please download a Job Description; an Application Form and an Equal Opportunities Form, from the links below. Available in Word or PDF formats, in both English and Welsh language.
The Finance & Administrative Assistant, works in close collaboration with the Director and reports to Mission Gallery's Board of Directors. This role is an integral part of the team at Mission Gallery, ensuring the smooth running of day to day Administrative duties, as well as efficient Finance and budgetary control. These robust organisational responsibilities are essential to Mission Gallery's reputation and integrity as one of the leading galleries in Wales.
This is a position that will suit a person with previous experience in a similar role and who has outstanding attention to detail; the ability to work effectively both within a team and independently; exceptional communication and organisational skills, and who is able to work effectively under pressure.
Equality Monitoring Form: Word | PDF
DEADLINE FOR APPLICATIONS IS 12 Noon on Monday 17 March 2014.
We will acknowledge receipt of applications. Shortlisted candidates will be invited for interview at Mission Gallery on Wednesday 26 March 2014.
Please send completed applications by email to board@missiongallery.co.uk with the subject line
REF: FINANCE & ADMIN ASSISTANT
If you have any questions before applying, please contact
The Director,  Amanda Roderick on 01792 652016
Mission Gallery is an equal opportunities employer. Applications are welcome from all sections of the community.
The Mission Gallery team are Collaborative, Creative and Passionate about the Arts. We are engaged with the Community, and are delivering an exciting, ambitious Exhibition & Learning Programme.

Good luck with your application and thank you for your interest in Mission Gallery.