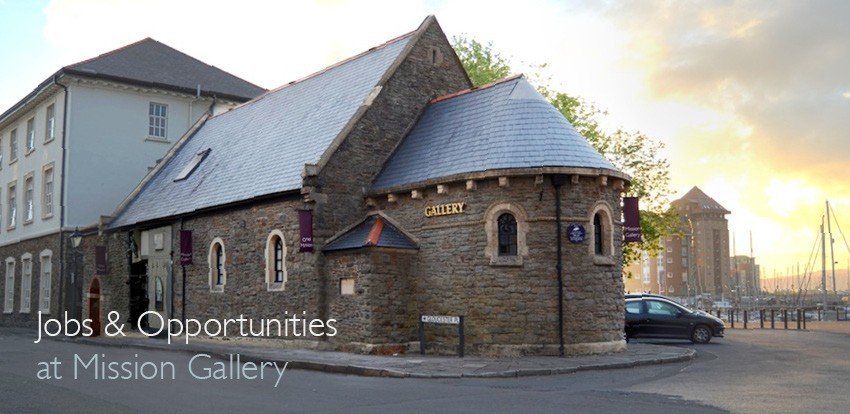 Mission Gallery News
---
---
Volunteer at Mission Gallery
---
Mission Gallery are looking for enthusiastic volunteers with a passion for learning and an interest in Contemporary Visual art and craft.
Volunteer Role: Gallery Assistant
Volunteers are based at Front of House, and will be first point of call for visitors. You will interact with a wide range of visitors and answer any exhibition/Craft Space queries they may have, as well as deal with retail sales and workshop bookings. Volunteers are also asked to help with general admin, housekeeping, invigilation and events (which will include bar work) as and when required.
Volunteers receive training in all aspects of Front of House, and any further training as required.
Main Tasks: Front of House person (alongside a member of staff), dealing with visitor queries, sales, general admin (as required). We may also ask you to help on specific areas of interest; as noted on your application form.
Requirements:    
An interest in Visual and Applied Art      
An understanding of Mission Gallery's history and aims           
The ability to take instruction
The ability to work independently
The ability to work effectively in a team
The ability to communicate effectively with a broad range of visitors, staff and volunteers
The ability to remain pleasant and professional at all times
Knowledge of Mission Gallery's current exhibition/Maker in Focus/the […] space/education programme
Basic IT skills      
Time and Commitment: 
To be agreed with each individual volunteer. Due to the nature of the venue, we do ask that volunteers commit to either a half day (10.45 am – 2pm or 2pm – 5.15pm) or full day (10.45am – 5.15pm) every week. This will depend on both your availability and available opportunities at Mission.*
*If there are no volunteering opportunities available upon time of application, we will let you know and notify you if an opportunity becomes available.
Benefits
A behind-the-scenes look at how a contemporary Visual Arts & Applied Art Gallery functions
Experience of volunteering in an established and respected art and craft gallery which has exhibition space, craft space, learning space, events, residency opportunities and more
Develop your understanding and knowledge of contemporary art and craft 
Training opportunities may be available
Due to limited volunteering opportunities, volunteering at Mission Gallery is much sought after. All applicants are invited to the gallery for a brief interview, and depending on availability and suitability to post successful candidates will be taken on.
If you would like to become part of Mission Gallery's dedicated volunteer team please download the Volunteer Application Form and Role Description below, complete the application form and return it to: Rhian Wyn Stone | retail@missiongallery.co.uk
Download Volunteer Application Form
Download Volunteer Role Description
---