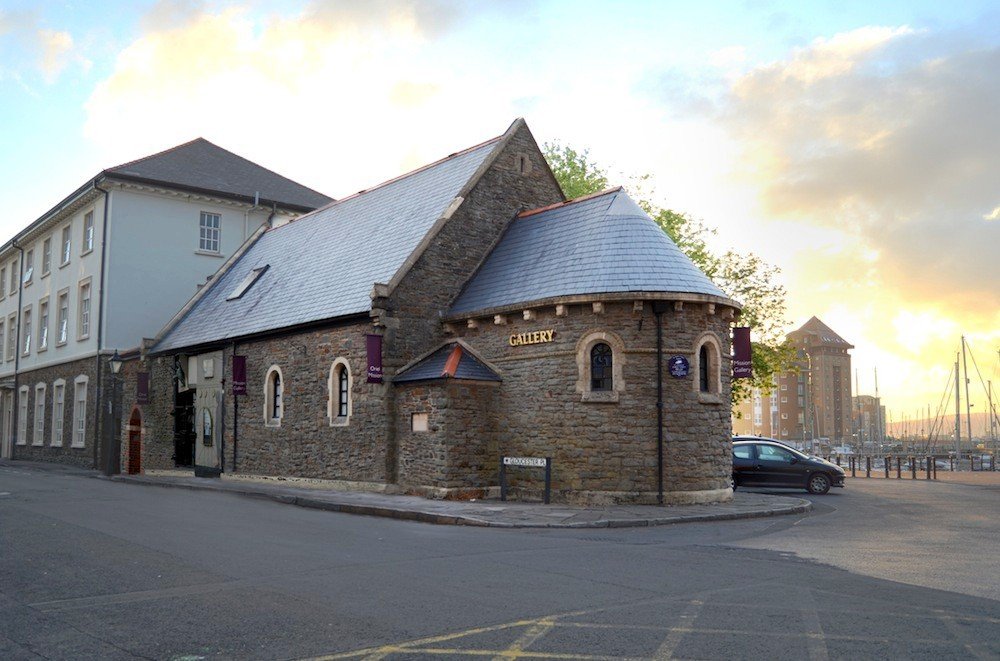 About Mission Gallery
Mission Gallery is one of the most inspiring spaces in Wales for the contemporary arts. A unique, architecturally beautiful space, the building is a rich resource for the local and wider community providing artists at all levels and experience, opportunities to display and make work while developing our audiences enjoyment, understanding and knowledge of art.
Founded by artists in 1977 as 'Swansea Arts Workshop Gallery', Mission Gallery has since developed a national and international reputation for presenting dynamic and distinctive programming. Boasting a proud forty year history of delivery and a strong reputation for supporting and nurturing artists, Mission Gallery has taken artistic risks; showing ambitious, diverse work by established and emerging artists across all disciplines, from Wales and beyond. Mission Gallery has a thriving Learning and Participation Programme aimed at all ages and abilities, building strong and meaningful cultural partnerships within artistic and education institutions. 
Mission Gallery is proud of the important collaborations, projects and exchanges developed with cultural organisations in New York and Venice, building our international work through programming, partnerships and residencies​
Housed in a Grade II listed building in Swansea's Maritime Quarter, Mission Gallery began its existence as a voluntary artist run body, evolving into a professional organisation funded by Arts Council of Wales in 2003. Governed by a voluntary board of directors, the management, programming and running is maintained by a small and dedicated team of staff and volunteers. Mission Gallery has a long track record of successfully forging meaningful and sustainable partnerships across the city, in particular with Swansea College of Art who are key partners
Mae Oriel Mission yn un o'r llefydd mwyaf ysbrydoledig yng Nghymru am Gelfyddydau cyfoes. Gwagle unigryw, sydd yn bensaernïol brydferth, adeilad sydd yn adnodd cyfoethog  i'r gymuned leol ac ehangach yn darparu cyfleoedd arddangos i artistiaid ar bob lefel a phrofiad, wrth ddatblygu mwynhad, deallusrwydd a gwybodaeth celf ein cynulleidfaoedd.
Wedi ei ddechrau gan artistiaid yn 1977 fel 'Oriel Gweithdy Gelf Abertawe', mae Oriel Mission ers hynny wedi datblygu enw da'n genedlaethol a rhyngwladol am arddangos rhaglen ddeinamig a gwahanredol. Gyda hanes ardderchog am ddarpariaeth dros ddeugain mlynedd ac enw da am gefnogi a meithrin artistiaid, mae Oriel Mission yn cymryd risgiau; gan ddangos gwaith uchelgeisiol, amrywiol o artistiaid sefydledig ac ymddangosedig, o Gymru ac ymhellach, ac ar draws pob disgyblaeth. Mae gan Oriel Mission Raglen Addysg a Chyfrannu ffyniol sydd yn targedu pob oedran a gallu, gan adeiladu partneriaethau a chydweithrediad diwylliannol cryf a hir o fewn sefydliadau artistig ac addysgol.
Wedi ei ymgartrefi mewn adeilad hanesyddol Gradd ll yn Ardal Forol Abertawe, dechreuodd Oriel Mission ei fodolaeth fel corff gwirfoddol wedi'i rhedeg gan artistiaid, gan esblygu i sefydliad proffesiynol a ariannir gan Gyngor Celfyddydau Cymru yn 2003. Fe'i rheolir gan fwrdd gwirfoddol o gyfarwyddwyr, cynhelir y goruchwylio, rhaglennu a rhedeg gan dîm bach a chysegrol staff a gwirfoddolwyr. Mae gan Oriel Mission enw da am adeiladu  partneriaethau ystyrlon a chynaliadwy ar draws y ddinas, yn enwedig gyda Choleg Celf Abertawe sydd yn bartner allweddol.
Our Opening Hours
Open Wednesday - Sunday, 11am - 5pm 
Closed Mondays & Tuesdays, Open Bank Holidays. Free Admission
Dydd Mercher - Sul 11yb – 5yp 
Ar gau ddydd Llun a Dydd Mawrth, Ar agor Gwyliau Banc. Mynediad am ddim
**NEW OPENING HOURS FROM TUESDAY 6th MARCH 2018**
Tuesday - Saturday 11am - 5pm 
 CLOSED Sunday & Monday. Closed Bank Holidays.
Getting to us
Mission Gallery is located on Swansea Marina near the City Centre. We are a 15 minute walk from Swansea High Street train station and a 10 minute walk from Swansea's central bus station. The nearest pay and display car parks are situated behind Mission Gallery in the Pumphouse and also in Somerset Place, a 5 minute walk. Parking spaces are also available in Gloucester Place, however, use of the Park and Ride system on Fabian Way, is a good alternative due to limited parking.
Mae Oriel Mission wedi'i leoli yn Marina Abertawe yn agos i ganol y ddinas. Rydym ni 15 munud ar droed o orsaf drenau Abertawe ar y Stryd Fawr a 10 munud o orsaf fysiau Abertawe. Mae'r safle parcio tâl ac arddangos agosaf wrth gefn Oriel Mission, yn y Pumphouse ac yn Somerset Place, taith 5 munud ar droed. Mae yna lefydd parcio yn Gloucester Place hefyd, ond oherwydd llefydd prin, mae'r system Park & Ride ar Fabian Way yn ddewis da.
Accessibility
Access is by one-step entry from pavement level through to our main entrance. There is level access throughout the gallery spaces. A wheelchair ramp is also available on request.
Mae yna un gris o'r palmant i brif fynediad yr Oriel. Mynediad lefel trwy gydol y yr oriel. Ramp cadair olwyn i gael ar ofyn.
Group Visits
We welcome schools, colleges and other groups and can arrange gallery talks to support your visit. Please contact us beforehand and we will do all we can to make your visit a success.
Croeso i ysgolion, colegau a grwpiau eraill a gellid drefnu sgwrs oriel fel cymorth i'ch ymweliad. Cysylltwch â ni o flaen llaw ac fe wnawn ein gorau i wneud eich ymweliad yn lwyddiant.
Large Format & Welsh
Mission Gallery can provide information in large format or Welsh. If you require other formats or languages, please ask and we will do our best to fulfill your request.
Gall Oriel Mission ddarparu gwybodaeth mewn fformat mawr ac yn Gymraeg. Os oes angen rhyw fformat neu iaith arall, gofynnwch ac fe gwnawn ein gorau i gyflawni eich dymuniad.
Our History
1868
St Nicholas Church, a non-denominational Seaman's Mission built by Benjamin Bucknall.
1977
Swansea Arts Workshop opened to the public as anArtGallery, including exhibition and workshop space. It was run by volunteers as part of the Association of Artists & Designers (AADW).
1992
Swansea Arts Workshop became an independent gallery.
1998
Swansea Arts Workshop adopted the name Mission Gallery.Promoted as a Crafts Council Selected Gallery.
2003
Becomes a revenue client of the Arts Council of Wales (ACW) receiving core funding for its exhibition programme, plus the first two salaried posts in its history
2008

Constituted as a not-for-profit organisation.
2011

Mission Gallery receives an uplift in its core funding from the ACW
2012
Acquisition of 1st floor of St. Nicholas' Church. A 30 year lease is signed with City & County of Swansea for the whole building.
2012

ACW funding for the remedial repair and development of the 1st floor into a dedicated education space.
2013 - 2014

Mission Gallery undergoes a Feasibility Study funded by ACW to explore the possibility of a Major Capital Redevelopment
2015
Mission Gallery receives significant ACW funding for two major projects; our flagship, cross county education programme, Criw Celf West and a National Touring Exhibition The Language of Clay. Both projects now guaranteed until 2019.
2016
Important collaborations, projects and exchanges developed with cultural organisations in New York and Venice, building Mission Gallery's international work work through programming, partnerships and residencies​.
2017
Mission is 40! Mission Gallery celebrates its 40th birthday with an exhibition and fundraiser with our Staff, Board, Volunteers, Friends, Partners and Artists.