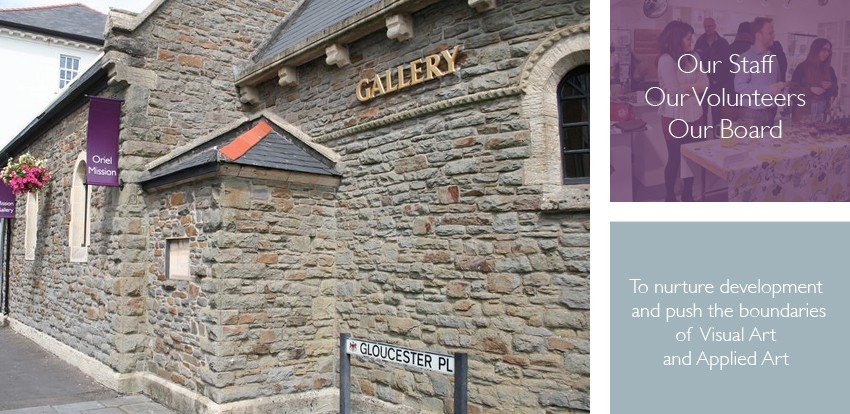 Board of Directors | board@missiongallery.co.uk
---
Hamish Gane | Chairman

---


Hamish Gane is programme director for BA (Hons) Photography in the Arts at Swansea Metropolitan University and a practicing photographic artist. Formally he worked as a lighting designer in London with companies such as the Royal Ballet and Channel 4 Television, before relocating to South Wales to study and practice art. He first volunteered at Mission Gallery as a student in the late 1990s and has been involved in some capacity ever since; as an exhibiting artist with a solo show Apron in 2005, up until his present position as Chair of the Board. 

 

 

Andrew Deathe | Vice Chairman

---


Andrew Deathe studied History and Museology in Bristol and Leicester and is the Exhibitions and Programmes Officer for the National Waterfront Museum, part of Amgueddfa Cymru - National Museum Wales. He is a long-standing committee member of the Welsh Museums Federation and has also served on the boards of Volcano Theatre and Locws International.

 

Keith Bayliss

---


Keith Bayliss is a practicing visual artist. He has extensive experience working as an artist in education and the community. He was formally the Community Arts Officer at the Glynn Vivian Art Gallery, Swansea and prior to that a Technical Instructor, working in Mental Health. He has devised numerous group exhibitions touring European venues and creating reciprocal artist and gallery liaisons. He has been associated with Mission Gallery since 1977 and is also Chairman of the Jane Phillips Award.

 

 

Russ Harris

---


Dr. Russ Harris has been a GP for 27 years. He is particularly interested in medical humanities and has regularly attended residential retreats with the Royal Free Hospital, London. He is involved in research using humanities and also teaching medical students to use arts based resources. Having written articles for the Friends of the Glynn Vivian Art Gallery Newsletter in the past, he recently became its Vice Chairman. Russ is also the Vice Chair of the Friends of Mission Gallery and represents them on the Board.

Anna Lewis

---


Anna Lewis trained as a contemporary jewellery designer maker in London. Originally from Swansea she returned to run her own design studio and has exhibited internationally for the last 12 years.  She now lectures on Foundation Art & Design and Surface Pattern Design at Swansea Metropolitan in fashion/textiles and has recently been collaborating with photographers and film makers to enhance her own practice.  Anna has had a close relationship with Mission Gallery for many years, starting as a volunteer when she was a student.  She has regularly exhibited at the gallery and had a solo show in 2006 with her first large scale installation 'Cathexis'.

 
 Steven Williams-Jones

---


Steven Williams-Jones completed a Law Degree at Swansea University, during which he spent some time studying at Wyoming University, USA. Since graduating, he has worked in private insurance and is a qualified member of the Chartered Insurance Institute and a TAP credited Learning and Development professional, with the Training Foundation. 

From 2002 Steven has worked for Admiral Insurance. His current role is varied and takes him across offices in South Wales. It includes aspects of training and development, people management and recruitment, adherence to corporate compliance and HR processes. Through his work and in his spare time, Steven is an enthusiastic charity supporter. 

 

Emma Bolton | Company Secretary

---


Emma Bolton studied Communications at University of Glamorgan and has worked within organisations such as the BBC, Sony, Admiral and the CPS. She has had extensive experience of preparing Marketing & Communication Strategies and Business Planning and is a member of the Chartered Institute of Marketing. Emma is currently Mission Gallery's Business & Communications Manager and also the Secretary of the Jane Phillips Award.

 

Amanda Roderick

---


Amanda Roderick represents Mission Gallery's management and artistic vision on the board. After training as an artist, she returned to Wales to volunteer at the then Swansea Arts Workshop Gallery. She has had experience in various roles at Mission Gallery and, following several years as Gallery Development Officer, became its Director in 2011. Amanda currently serves on the board of Swansea Festival of Music and the Arts, the Jane Phillips Award and is also a member of Swansea's Boulevard Project Public Art Steering Group.

 
Bella Kerr
Bella Kerr is programme director of the Foundation Art and Design course at UWTSD, Swansea, and has taught at undergraduate level on a number courses. Bella has been an active practitioner since graduating, her practice spanning installation, small-scale multiples, film and set design. She has exhibited in a range of contexts from film screenings in major London galleries, to museums and regional galleries. Recent work has been expressed in the form of large-scale installation, participatory projects, written research and digital print and video. Her recent exhibition at Mission Gallery, Keeper(s), strengthened a relationship grown from visiting regularly, often with student groups and exhibiting at the gallery in group shows. Bella will be developing the scope of her practice as curator of the CIVIC exhibition at Mission in 2014.
Gail Wynter
Gail Wynter studied law at Cardiff University and went onto to specialise in Family Law enjoying a successful career spanning over twenty years.  She established her own firm with two colleagues in 2000 and took on the role of Managing Director which broadened her business skills base.  However, seeking a change of direction Gail left the legal field in 2012 to pursue her first love of art and design, although she remains on the Law Society's Roll as a non practising solicitor.  Gail was a volunteer at the Mission Gallery before accepting a position as a Director on the Board in September 2013.  Her creative practice is continuing to evolve.